There are many way you can support the Wa Melbourne Ikebana Festival, not just as an exhibitor. Please contact us at wa.ikebana@gmail.com for more information about any of the following options.
1. Donations. Any amount welcome. paypal.me/TsuboMelbourne
2. Sponsorship
3. Workshop Spaces: You can hire a small section of our venue to conduct your own workshop during the Melbourne Ikebana Festival. Application closed for Wa Ikebana Festival 2022.
4. Volunteers: Join our creative team. We welcome not just ikebana practitioners but also those who are interested in Japanese culture, event management or marketing. We are also looking for a curator for our exhibition. If you are interested, please send your cv to us.
5. Promote your event with us: If you are planing to have ikebana related public event (exhibition, workshop, etc.) in Melbourne in September or October, we are happy to include your event in our program for free to help you promote your event.
6. Promote your event with us: If you are planing to have ikebana related public event (exhibition, workshop, etc.) outside Melbourne, please join our companion event program so that we can help each other.
7. Stalls: Ikebana or Japanese culture related stalls are welcome (no food or drink services). There are a limited number of places, and stall holder insurance is required. Send an Expression of Interest now. Application opens in August 2022.



Notice for the Stall Holders at Wa Melbourne Ikebana Festival
How to Apply
1. Send an expression of interest to wa.ikebana@gmail.com. Let us know what you intend to sell.
2. Wa will send you an invitation.
(1) Pay $150 to Tsubo Melbourne, BSB: 033-070, Account Number: 527917. Reference: Stall 22, Your family name.
(2) Send an email to wa.ikebana@gmail.com with subject, "Stall 22", informing us;
- your name
- your mobile number
- date your paid the fee
- attach a copy of the certificate of your stall holder insurance
3. We will send you a notice to confirm your payment. If you don't receive confirmation 7 days after your payment, please contact us, wa.ikebana@gmail.com
Times
1. Duration for your stall
11am - 5pm, Saturday 10 September
10am - 5pm, Sunday 11 September
2. Setting up
4pm - 7pm, Friday 9 September
9am - 10am, Saturday 10 September
11am or later, Saturday 10 September
Avoide setting up during our opening (10am to 11am, 10 September).
Don't leave your works unattended. If you have to leave, please cover/protect your goods.
Site for the Stalls
Stalls will be indoor. The Wa may advise you to change your site location.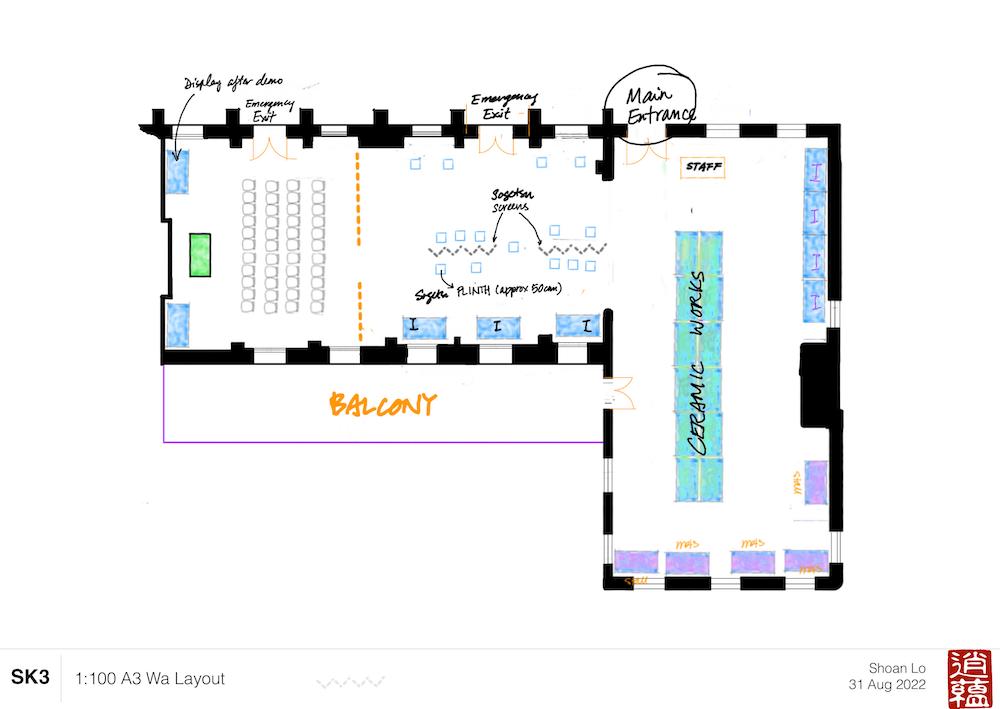 Space for Your Stall
You will be allocated the site of approx. 2m (wide) X 1.5m (depth). Bring your own table.
Overnight
After 5pm on 10 September, please cover/protect your goods to sell. The site will be locked at 5:30 PM on 10 September. To access the site after 5:30, please contact Abbotsford Convent Security with an extra fee.
Notes
The fee will not be refunded unless the Wa festival is cancelled due to unforeseen reasons or some restrictions introduced by the governments etc.
The Wa festival may have to change or cancel your participation as a stall holder for unforeseen reasons. The Wa is not liable for any losses under any circumstances.
The number for the stalls is limited. If we don't hear from you within 5 days after our invitation, your place will be offered to others.
Please refer to our programs during the festival.